Som Sokheng
Company Name
Food Seller, Phnom Penh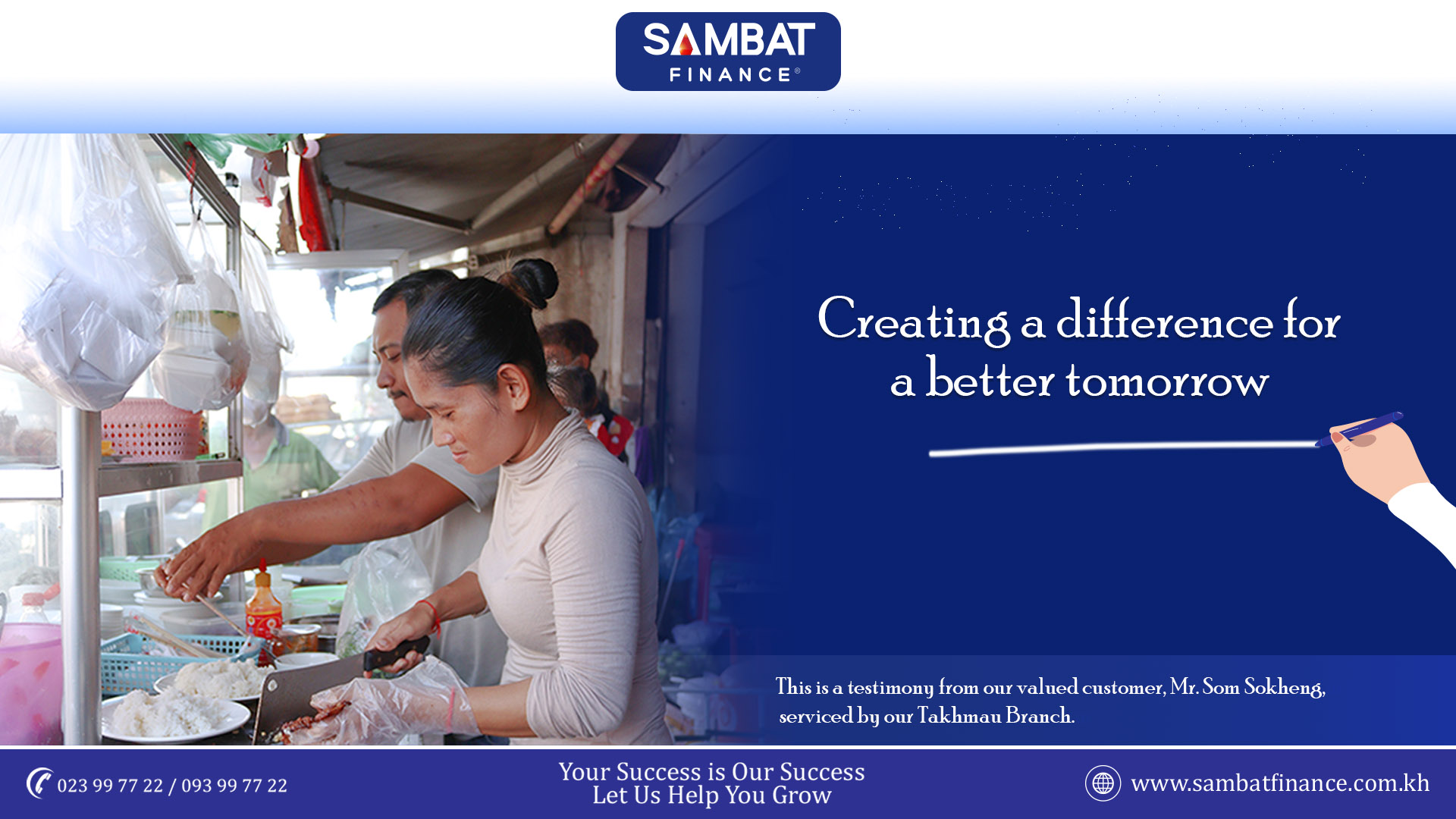 My name is Som Sokheng and I currently live with my family in Bak Touk Village, Tuol Sangke Commune, Russey Keo District, Phnom Penh. My main business is operating a food stall selling rice and chinese noodles and also providing tricycle service. In the past, my wife and I used to serve breakfast, lunch and dinner at our food stall but after my wife gave birth, we decided to serve breakfast only. We were introduced to SAMBAT Finance by my aunt who lives in Kean Svay District. She advised me to apply for a loan from SAMBAT Finance because of their fast and good customer service. So I decided to apply for a loan from SAMBAT Finance and to my surprise, I found that the loan application process is simple and the customer service is excellent. I took my first loan from SAMBAT Finance in 2015 to buy a motorbike and until now, I have renewed my loan for 3 cycles already. Before I took the loan from SAMBAT Finance, I was employed as a chef at a beer garden restaurant and to supplement my family's income, I worked part-time as a motor taxi operator after work.
After saving up some money, I decided to apply for a 2nd loan from SAMBAT Finance to buy a tricycle so that I can offer delivery service.
Nowadays, I also use my tricycle to deliver food ordered by customers from our food stall and the food delivery service has certainly helped to improve our daily income. The 3rd loan from SAMBAT Finance was used for the set-up of my food stall business.
My family's living standard has been improving since the day we took our 1st loan from SAMBAT Finance which enabled us to have enough savings to operate our own food stall business. With the excess income from the business, we can now afford to buy our own flat house. Over the years, we found that SAMBAT Finance is constantly looking to improve their quality of customer service. For example, I can now repay my loan at any payment channels and once done, I just need to send a photo of the receipt to the officers. It is so convenient and the service fee is fully borne by SAMBAT Finance.
Finally, I am grateful to SAMBAT Finance for trusting and supporting us since 2015 and enabled me to continue providing financial support to my family even during the Covid pandemic.
"Your Success is Our Success. Let Us Help You Grow"